Are you ready to supercharge your earnings on Lootup.me? We're thrilled to announce the launch of our brand-new leveling up rewards system: LevelUP Rewards! This exciting new feature allows you to earn even more while doing the things you already enjoy on our platform.

LevelUP Rewards is designed to make your experience on Lootup.me even more rewarding. By completing surveys & offers, watching videos, playing games and much more, you'll not only earn cash, but also level up and unlock amazing rewards!

How does it work? It's simple. As you cross various earnings thresholds, you'll level up and receive free points as rewards. For example:
Earn $1.00 and claim your free points reward!
Earn $5.00 and receive another reward!
Earn $10.00 and unlock yet another reward!
The rewards keep coming as you continue to earn more on Lootup.me. Plus, the more you level up, the larger the rewards get!
Our new LevelUP Rewards tracker, located on the earn page lets you know how many points you'll need to earn to reach the next level. Once you've reached the point threshold to level up, simply click or tap "Claim" and you'll receive your rewards!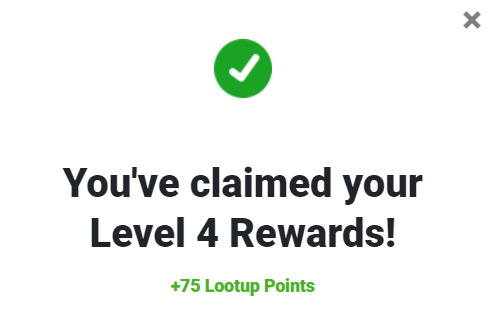 Now is the perfect time to explore all the fun ways to earn extra cash on Lootup.me. From taking surveys and watching videos, to playing games and completing offers, there's never been a more rewarding way to earn money online.

What are you waiting for? Join Lootup.me today, and start leveling up your rewards with LevelUP Rewards!